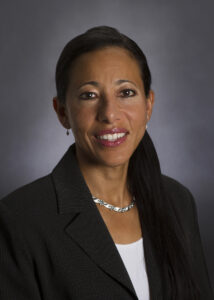 Attorney Andrea Olivos-Kah is Of Counsel at Shane, Shane & Brauwerman.  Andrea specializes in employment-based immigration. Throughout her career, she has assisted many multinational executives, entrepreneurs, investors, intra-company transferees and extraordinary ability workers to obtain the temporary or permanent status they need to remain in the United States. Andrea coordinates with business attorneys and with tax specialists to ensure that any and all immigration concerns are addressed.
After graduating from George Washington University in 1991 with a Bachelor's in International Affairs, Andrea went on to receive her Master of Arts in International Politics, also from GWU, in 1994. Her academic career continued at the University of Miami Law School, where she received her Juris Doctor in 1998. Upon graduating, Andrea worked as Independent Consultant-Electoral Observer for the Organization of American States Unit for the Promotion of Democracy in Nicaragua, Haiti, Guatemala and Peru.
Andrea has a long and distinguished career in immigration law. Since 1999, she has been a Member of the Michigan Bar, and she has held membership in the American Immigration Lawyers Association (AILA) since 2000. In 2005, Andrea was nominated as the AILA Mentor on ethics and unauthorized practice of law issues, and she has proudly served in this role ever since.
From 2005 to 2007, Andrea was a member of of AILA South Florida's Unauthorized Practice of Law Committee. During this same time period, she co-hosted and was a contributing author to two podcasts: "Immigration Fridays," and the Spanish-language version, "Viernes de Immigración."
A native Spanish speaker, Andrea is fluent in English and proficient in French.